Tri-Fold Rivets & Peel Rivets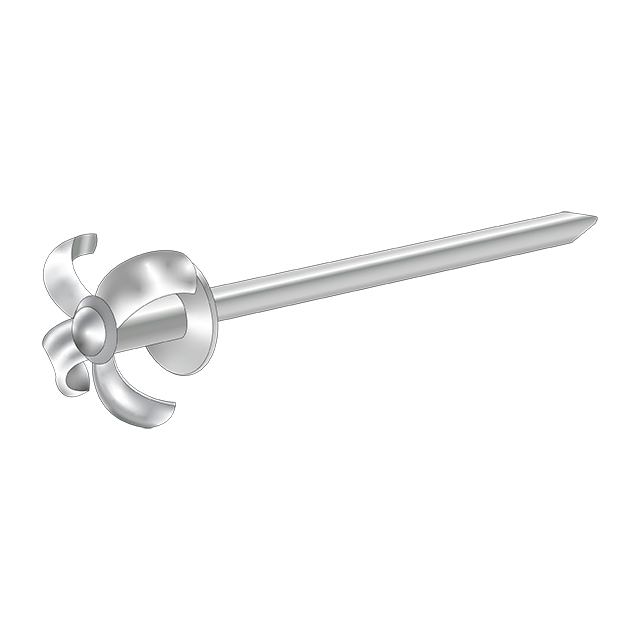 T Rivets are tri-fold, quad-fold or peel rivets designed for structural and similar high strength applications, T-Rivets have exceptional pull-up properties and provide high tensile and shear strength.
Peel Rivets have a unique setting action, suitable for joining plastics, rubber, wood, GRP and laminates. On setting, the body splits into petals, withstanding high pull-out loads. Rivets are made of aluminum 3.5% magnesium alloy with carbon steel mandrels.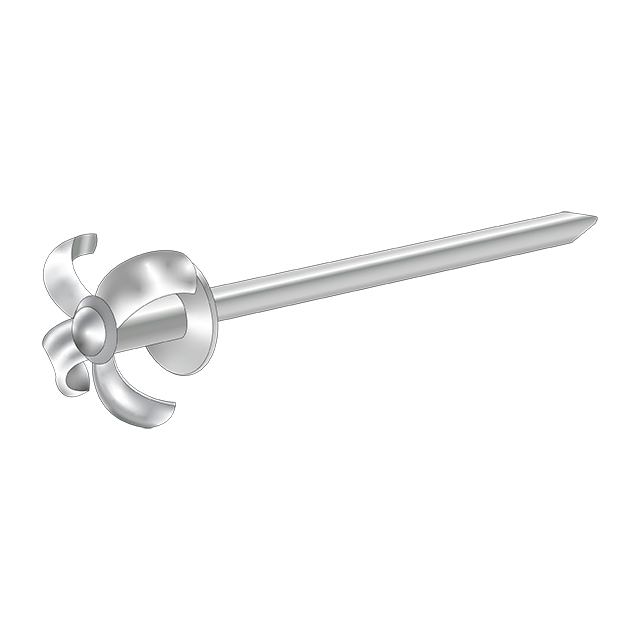 BALTSS-06-062 Avdel T Rivets (Avdel)
BALTSS-06-062, Avdel, T Rivets (Avdel), Diameter: 0.187 Inch, Grip Range: 0.046-0.078 Inch, Large Flange Head, Body Material: Aluminum, Body Finish: Plain, Mandrel Material: Aluminum, Mandrel Finish: Plain
Minimum Order Qty: 1 | Qty Interval: N/A
BSPN: BA-BALTSS-06-062 | MPN: BALTSS-06-062
Price: Request a Quote | Your Net Price: Request a Quote
Available Qty: -
Minimum Order Qty: 1
Qty Interval: 1
BSPN: BA-BALTSS-06-062 | MPN: BALTSS-06-062
Price: Request a Quote
Your Net Price: Request a Quote
Avg Lead Time For Backorders: Nil
Backorder Available Date: Nil
Available Qty: -
BALTSS-06-062, Avdel, T Rivets (Avdel), Diameter: 0.187 Inch, Grip Range: 0.046-0.078 Inch, Large Flange Head, Body Material: Aluminum, Body Finish: Plain, Mandrel Material: Aluminum, Mandrel Finish: Plain
BALTSS-06-093 Avdel T Rivets (Avdel)
BALTSS-06-093, Avdel, T Rivets (Avdel), Diameter: 0.187 Inch, Grip Range: 0.078-0.109 Inch, Large Flange Head, Body Material: Aluminum, Body Finish: Plain, Mandrel Material: Aluminum, Mandrel Finish: Plain
Minimum Order Qty: 1 | Qty Interval: N/A
BSPN: BA-BALTSS-06-093 | MPN: BALTSS-06-093
Price: Request a Quote | Your Net Price: Request a Quote
Available Qty: -
Minimum Order Qty: 1
Qty Interval: 1
BSPN: BA-BALTSS-06-093 | MPN: BALTSS-06-093
Price: Request a Quote
Your Net Price: Request a Quote
Avg Lead Time For Backorders: Nil
Backorder Available Date: Nil
Available Qty: -
BALTSS-06-093, Avdel, T Rivets (Avdel), Diameter: 0.187 Inch, Grip Range: 0.078-0.109 Inch, Large Flange Head, Body Material: Aluminum, Body Finish: Plain, Mandrel Material: Aluminum, Mandrel Finish: Plain
BALTSS-06-125 Avdel T Rivets (Avdel)
BALTSS-06-125, Avdel, T Rivets (Avdel), Diameter: 0.187 Inch, Grip Range: 0.109-0.140 Inch, Large Flange Head, Body Material: Aluminum, Body Finish: Plain, Mandrel Material: Aluminum, Mandrel Finish: Plain
Minimum Order Qty: 1 | Qty Interval: N/A
BSPN: BA-BALTSS-06-125 | MPN: BALTSS-06-125
Price: Request a Quote | Your Net Price: Request a Quote
Available Qty: -
Minimum Order Qty: 1
Qty Interval: 1
BSPN: BA-BALTSS-06-125 | MPN: BALTSS-06-125
Price: Request a Quote
Your Net Price: Request a Quote
Avg Lead Time For Backorders: Nil
Backorder Available Date: Nil
Available Qty: -
BALTSS-06-125, Avdel, T Rivets (Avdel), Diameter: 0.187 Inch, Grip Range: 0.109-0.140 Inch, Large Flange Head, Body Material: Aluminum, Body Finish: Plain, Mandrel Material: Aluminum, Mandrel Finish: Plain
BALTSS-06-156 Avdel T Rivets (Avdel)
BALTSS-06-156, Avdel, T Rivets (Avdel), Diameter: 0.187 Inch, Grip Range: 0.140-0.171 Inch, Large Flange Head, Body Material: Aluminum, Body Finish: Plain, Mandrel Material: Aluminum, Mandrel Finish: Plain
Minimum Order Qty: 1 | Qty Interval: N/A
BSPN: BA-BALTSS-06-156 | MPN: BALTSS-06-156
Price: Request a Quote | Your Net Price: Request a Quote
Available Qty: -
Minimum Order Qty: 1
Qty Interval: 1
BSPN: BA-BALTSS-06-156 | MPN: BALTSS-06-156
Price: Request a Quote
Your Net Price: Request a Quote
Avg Lead Time For Backorders: Nil
Backorder Available Date: Nil
Available Qty: -
BALTSS-06-156, Avdel, T Rivets (Avdel), Diameter: 0.187 Inch, Grip Range: 0.140-0.171 Inch, Large Flange Head, Body Material: Aluminum, Body Finish: Plain, Mandrel Material: Aluminum, Mandrel Finish: Plain
BALTSS-06-187 Avdel T Rivets (Avdel)
BALTSS-06-187, Avdel, T Rivets (Avdel), Diameter: 0.187 Inch, Grip Range: 0.171-0.203 Inch, Large Flange Head, Body Material: Aluminum, Body Finish: Plain, Mandrel Material: Aluminum, Mandrel Finish: Plain
Minimum Order Qty: 1 | Qty Interval: N/A
BSPN: BA-BALTSS-06-187 | MPN: BALTSS-06-187
Price: Request a Quote | Your Net Price: Request a Quote
Available Qty: -
Minimum Order Qty: 1
Qty Interval: 1
BSPN: BA-BALTSS-06-187 | MPN: BALTSS-06-187
Price: Request a Quote
Your Net Price: Request a Quote
Avg Lead Time For Backorders: Nil
Backorder Available Date: Nil
Available Qty: -
BALTSS-06-187, Avdel, T Rivets (Avdel), Diameter: 0.187 Inch, Grip Range: 0.171-0.203 Inch, Large Flange Head, Body Material: Aluminum, Body Finish: Plain, Mandrel Material: Aluminum, Mandrel Finish: Plain
BALTSS-06-218 Avdel T Rivets (Avdel)
BALTSS-06-218, Avdel, T Rivets (Avdel), Diameter: 0.187 Inch, Grip Range: 0.203-0.234 Inch, Large Flange Head, Body Material: Aluminum, Body Finish: Plain, Mandrel Material: Aluminum, Mandrel Finish: Plain
Minimum Order Qty: 1 | Qty Interval: N/A
BSPN: BA-BALTSS-06-218 | MPN: BALTSS-06-218
Price: Request a Quote | Your Net Price: Request a Quote
Available Qty: -
Minimum Order Qty: 1
Qty Interval: 1
BSPN: BA-BALTSS-06-218 | MPN: BALTSS-06-218
Price: Request a Quote
Your Net Price: Request a Quote
Avg Lead Time For Backorders: Nil
Backorder Available Date: Nil
Available Qty: -
BALTSS-06-218, Avdel, T Rivets (Avdel), Diameter: 0.187 Inch, Grip Range: 0.203-0.234 Inch, Large Flange Head, Body Material: Aluminum, Body Finish: Plain, Mandrel Material: Aluminum, Mandrel Finish: Plain
BALTSS-06-250 Avdel T Rivets (Avdel)
BALTSS-06-250, Avdel, T Rivets (Avdel), Diameter: 0.187 Inch, Grip Range: 0.234-0.265 Inch, Large Flange Head, Body Material: Aluminum, Body Finish: Plain, Mandrel Material: Aluminum, Mandrel Finish: Plain
Minimum Order Qty: 1 | Qty Interval: N/A
BSPN: BA-BALTSS-06-250 | MPN: BALTSS-06-250
Price: Request a Quote | Your Net Price: Request a Quote
Available Qty: -
Minimum Order Qty: 1
Qty Interval: 1
BSPN: BA-BALTSS-06-250 | MPN: BALTSS-06-250
Price: Request a Quote
Your Net Price: Request a Quote
Avg Lead Time For Backorders: Nil
Backorder Available Date: Nil
Available Qty: -
BALTSS-06-250, Avdel, T Rivets (Avdel), Diameter: 0.187 Inch, Grip Range: 0.234-0.265 Inch, Large Flange Head, Body Material: Aluminum, Body Finish: Plain, Mandrel Material: Aluminum, Mandrel Finish: Plain
BALTSS-06-281 Avdel T Rivets (Avdel)
BALTSS-06-281, Avdel, T Rivets (Avdel), Diameter: 0.187 Inch, Grip Range: 0.265-0.296 Inch, Large Flange Head, Body Material: Aluminum, Body Finish: Plain, Mandrel Material: Aluminum, Mandrel Finish: Plain
Minimum Order Qty: 1 | Qty Interval: N/A
BSPN: BA-BALTSS-06-281 | MPN: BALTSS-06-281
Price: Request a Quote | Your Net Price: Request a Quote
Available Qty: -
Minimum Order Qty: 1
Qty Interval: 1
BSPN: BA-BALTSS-06-281 | MPN: BALTSS-06-281
Price: Request a Quote
Your Net Price: Request a Quote
Avg Lead Time For Backorders: Nil
Backorder Available Date: Nil
Available Qty: -
BALTSS-06-281, Avdel, T Rivets (Avdel), Diameter: 0.187 Inch, Grip Range: 0.265-0.296 Inch, Large Flange Head, Body Material: Aluminum, Body Finish: Plain, Mandrel Material: Aluminum, Mandrel Finish: Plain
BALTSS-06-312 Avdel T Rivets (Avdel)
BALTSS-06-312, Avdel, T Rivets (Avdel), Diameter: 0.187 Inch, Grip Range: 0.296-0.328 Inch, Large Flange Head, Body Material: Aluminum, Body Finish: Plain, Mandrel Material: Aluminum, Mandrel Finish: Plain
Minimum Order Qty: 1 | Qty Interval: N/A
BSPN: BA-BALTSS-06-312 | MPN: BALTSS-06-312
Price: Request a Quote | Your Net Price: Request a Quote
Available Qty: -
Minimum Order Qty: 1
Qty Interval: 1
BSPN: BA-BALTSS-06-312 | MPN: BALTSS-06-312
Price: Request a Quote
Your Net Price: Request a Quote
Avg Lead Time For Backorders: Nil
Backorder Available Date: Nil
Available Qty: -
BALTSS-06-312, Avdel, T Rivets (Avdel), Diameter: 0.187 Inch, Grip Range: 0.296-0.328 Inch, Large Flange Head, Body Material: Aluminum, Body Finish: Plain, Mandrel Material: Aluminum, Mandrel Finish: Plain
BALTSS-06-343 Avdel T Rivets (Avdel)
BALTSS-06-343, Avdel, T Rivets (Avdel), Diameter: 0.187 Inch, Grip Range: 0.328-0.359 Inch, Large Flange Head, Body Material: Aluminum, Body Finish: Plain, Mandrel Material: Aluminum, Mandrel Finish: Plain
Minimum Order Qty: 1 | Qty Interval: N/A
BSPN: BA-BALTSS-06-343 | MPN: BALTSS-06-343
Price: Request a Quote | Your Net Price: Request a Quote
Available Qty: -
Minimum Order Qty: 1
Qty Interval: 1
BSPN: BA-BALTSS-06-343 | MPN: BALTSS-06-343
Price: Request a Quote
Your Net Price: Request a Quote
Avg Lead Time For Backorders: Nil
Backorder Available Date: Nil
Available Qty: -
BALTSS-06-343, Avdel, T Rivets (Avdel), Diameter: 0.187 Inch, Grip Range: 0.328-0.359 Inch, Large Flange Head, Body Material: Aluminum, Body Finish: Plain, Mandrel Material: Aluminum, Mandrel Finish: Plain
BALTSS-06-375 Avdel T Rivets (Avdel)
BALTSS-06-375, Avdel, T Rivets (Avdel), Diameter: 0.187 Inch, Grip Range: 0.359-0.390 Inch, Large Flange Head, Body Material: Aluminum, Body Finish: Plain, Mandrel Material: Aluminum, Mandrel Finish: Plain
Minimum Order Qty: 1 | Qty Interval: N/A
BSPN: BA-BALTSS-06-375 | MPN: BALTSS-06-375
Price: Request a Quote | Your Net Price: Request a Quote
Available Qty: -
Minimum Order Qty: 1
Qty Interval: 1
BSPN: BA-BALTSS-06-375 | MPN: BALTSS-06-375
Price: Request a Quote
Your Net Price: Request a Quote
Avg Lead Time For Backorders: Nil
Backorder Available Date: Nil
Available Qty: -
BALTSS-06-375, Avdel, T Rivets (Avdel), Diameter: 0.187 Inch, Grip Range: 0.359-0.390 Inch, Large Flange Head, Body Material: Aluminum, Body Finish: Plain, Mandrel Material: Aluminum, Mandrel Finish: Plain
BALTSS-06-406 Avdel T Rivets (Avdel)
BALTSS-06-406, Avdel, T Rivets (Avdel), Diameter: 0.187 Inch, Grip Range: 0.390-0.421 Inch, Large Flange Head, Body Material: Aluminum, Body Finish: Plain, Mandrel Material: Aluminum, Mandrel Finish: Plain
Minimum Order Qty: 1 | Qty Interval: N/A
BSPN: BA-BALTSS-06-406 | MPN: BALTSS-06-406
Price: Request a Quote | Your Net Price: Request a Quote
Available Qty: -
Minimum Order Qty: 1
Qty Interval: 1
BSPN: BA-BALTSS-06-406 | MPN: BALTSS-06-406
Price: Request a Quote
Your Net Price: Request a Quote
Avg Lead Time For Backorders: Nil
Backorder Available Date: Nil
Available Qty: -
BALTSS-06-406, Avdel, T Rivets (Avdel), Diameter: 0.187 Inch, Grip Range: 0.390-0.421 Inch, Large Flange Head, Body Material: Aluminum, Body Finish: Plain, Mandrel Material: Aluminum, Mandrel Finish: Plain
General Features of the T Rivet
Clamping loads spread over wide area, avoiding damage to vulnerable materials
Tolerance of over-sized holes
Sets with standard blind rivet hand or power riveting tools
Can draw together and clamp components even when poorly aligned